Alejandro Jodorowsky is a stage and film director, comic book writer, tarot reader, and unlicensed psychotherapist. He's best known for his films Holy Mountain, El Topo and Santa Sangria.
He was set to direct the Dune movie in the 80s and after the deal fell through he turned his Dune ideas into a comic universe consisting of L'Incal, Metabarons, and Technopriest. Jodorowsky and artist Moebius unsuccessfully sued director Luc Besson for lifting elements of L'Incal for his movie Fifth Element.
Jodorowsky is now raising money for an autobiographical film called The Dance of Reality and has also raised money for a sequel to El Topo called Abel Cain.
Jodorowsky is friends with musician Marilyn Manson and officiated the wedding of Manson and Dita Von Teese. Manson was to play the pope in now indefinitely delayed Jodorowsky film King Shot, but may appear instead in Abel Cain.
Recent News
Alejandro Jodorowsky is "crowd funding" his next film, the autobiographical by raising money directly from fans. According to this article in Spanish he is also still planning to direct Abel Cain.
Documentary to Examine Alejandro Jodorowsky's Dune. I can't find a release date for this yet.
Jodorowsky's book on Psychomagic has been released in English.
Alejandro Jodorowsky Leads Group Psychomagic Ritual for Casualties of the War on Drugs
Alejandro Jodorowsky Gets Funding for Dream Project 'Abel Cain'
Official Sites
alejandro-jodorowsky.com in Spanish.
La Danza de la Realidad The Official site for The Dance of Reality. You can donate here.
Abkco Films Jodorowsky page Publishers of the Holy Mountain DVD
Jodorowsky page on Humanoids publisher of his comics
Unofficial Sites
The Symbol Grows: Alejandro Jodorowsky
Films
La Cravate Jodorowsky's first film, made in 1957. Silent short film.
Santa Sangria is available on Netflix Watch Instantly.
Trailers

Holy Mountain

El Topo

Sante Sangre
Documentaries
The Jodorowsky Constellation 1994 Jodorowsky documentary. Can be watched online for $4. Excerpts here.
Jodorowsky's Dune is a forthcoming documentary by Frank Pavich that explores how the Jodorowsky's Dune project fell apart.
Dune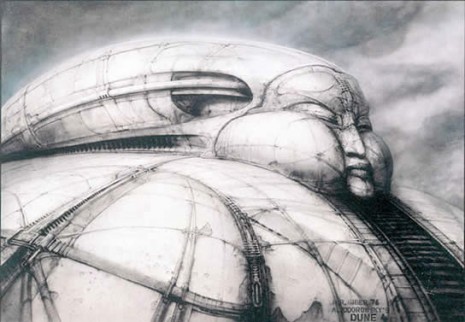 Jodorowsky was set to direct Dune featuring Orson Welles and Salvador Dali, designs by Moebius and H.R. Giger, and music by Pink Floyd. Here's pretty much everything I could about Jodorowsky's Dune.
King Shot
King Shot is currently delayed Jodorowsky film that was to be produced by David Lynch and feature Nick Nolte, Asia Argento, Marilyn Manson, Udo Kier, and Santiago Segura.
Conceptual art and storyboards from King Shot
Paste Magazine article about King Shot
Official King Shot site – nothing here yet.
Comics
Scans of Fabulas Panicas (Panic Fables), Joworowsky's weekly comic strip from the late 60s. In Spanish.
Writing
Excerpts form Jodorowsky's memoirs at Reality Sandwich
Arthur Magazine issue with excerpt from memoirs
Jodorowsky interviews Marilyn Manson May 2007, translated from French?
Excerpt from Jodorowsky's book The Way of Tarot
A booklet on the history and meaning of the Tarot by Jodorowsky
The Flash vs. Gurdjieff by Alejandro Jodorowsky from the Spanish science-fiction magazine Nueva in 1968.
Interviews
Alejandro Jodorowsky Interviewed by Richard Metzger on Dangerous Minds November 2011
Interview on the occasion of the re-release of Santa Sangre 2011
Vice Magazine interview Oct 2009 – Terrific interview
Jodorowsky interview in the Guardian about Abel Cain November 2009
Jodorowsky talks about the tarot
Long Jodorowsky interview on psychomagic. The second interview from the Spanish program 'Negro sobre blanco'. Interview in Spanish with English subtitles. (The first is one of the tarot videos linked above).
Interview with Jodorowsky August 2008.
Video interview with Jodorowsky by timesquare.com, July 2008.

BBC Interview, 2007. Article here. Jodorowsky explains how he makes pornographic sculptures with his boogers and then masturbates to them.
Fortean Times interview from July 2007.
Jodorowsky interviews Marilyn Manson May 2007, translated from French?
Video interview for Holy Mountain release. 2007?
Interview and article from Rez Magazine 2005
LA Weekly interview from 2004. By Arthur Magazine's Jay Babcock.
1999 interview from Mean Magazine by Arthur's Jay Babcock. Recommended
Rain Taxi interview with Jodorowsky 1996
Fad Magazine interview from 1996.

Short 1990 interview on violence.
Penhouse magazine interview 1973
Misc
Review of Jodorowsky's memoir by Erik Davis
The Crazy World of Alejandro Jodorowsky video
The Disinfo dossier on Alejandro Jodorowsky
El Topo soundtrack downloads Dead link – any replacement or place to purchase?
The video for Marilyn Manson's "Born Villain" references Jodorowsky's Holy Mountain.
Trevor Blake has compiled several music videos with Holy Mountain references.
J: You, Manson, you are a symbol. You always wear make-up, no-one knows who you are… Christ is a man who became a symbol, you are the opposite. You are a symbol who is in the process of becoming human. When you say ?Eat Me, Drink Me', you prove your love for the world. You offer yourself… you are food for the vampire cannibals. That's what I feel. Talking about you personally: you are a mythology, but back to front. Each new era needs new mythologies…

M: I completely agree. You understood that so much better than anyone… yes.

J: To express ourselves as artists in the world, we can no longer destroy it. It is ourselves that we have to destroy.
For more on Jodorowsky, check our our dossier.