Klint Finley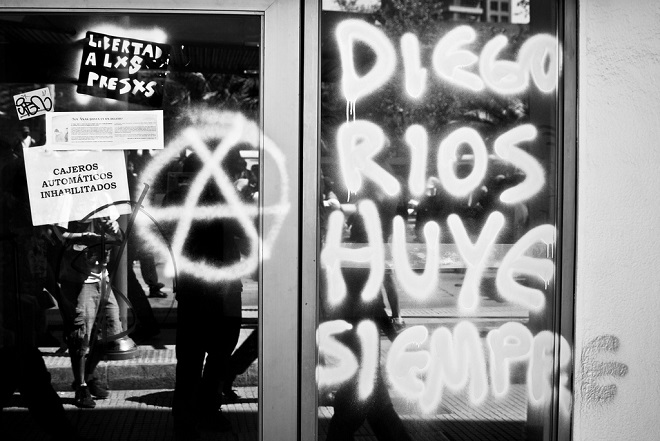 From Danger Room:
The group, which goes by the name Individualidades Tendiendo a lo Salvaje (ITS), posted its manifesto to anarchist blog Liberacion Total last month. The manifesto takes credit for a failed bombing attempt that month against a researcher at the Biotechnology Institute at the National Autonomous University of Mexico. And the group promises more.

"We have said it before, we act without any compassion in the feral defense of Wild Nature," the manifesto states. "Did those who modify and destroy the Earth think their actions wouldn't have repercussions? That they wouldn't pay a price? If they thought so, they are mistaken." The group threatens more bombings against Mexican scientists because "they must pay for what they are doing to the Earth."

A violent fringe group with anarcho-primitivist views — its name roughly translates to "Individuals Tending to Savagery," although "Tending to the Wild" might be more exact — ITS sees technology and civilization as essentially doomed and leading humanity to an ecological catastrophe. Technology should be destroyed; humans should revert to a hunter-gatherer lifestyle; and all of this, ITS says, is for our own good. Nanotechnology is a particular scourge: Self-replicating nanobots will one day escape from laboratories to consume the Earth; and weaponization of nanotech is inevitable.
Full Story: Wired Danger Room: In Manifesto, Mexican Eco-Terrorists Declare War on Nanotechnology
See also: Terror tactics: Science in the anarchists' cross hairs
Photo: cosmopolita / CC
Klint Finley
Josh Ellis, aka Red State Soundsystem, went to the so-called murder capital of the world, Juarez, Mexico, to get his teeth fixed and lived to tell about it:
The dentist is a taciturn son of a bitch who doesn't speak much English and he has a device in his hand that looks, in my peripheral vision, like a steel bar with a sharp screw on one side and a thumb dial on the other. He's going to screw this thing into my ruined back molar like a drywall anchor and rip the tooth out of my skull.

He jabs in another long, sharp needle full of anesthetic. After two and a half hours in the chair — during which time an oral surgeon has removed my upper wisdom teeth by sawing them into pieces and pulling them out through my gum — my face is pretty much numb from my cheekbones to my Adam's apple. But I still feel the jab, which worries me.

It worries me a lot more, a second later, when he puts his little drywall anchor to the top of my tooth and begins screwing it in. My head is filled with white-hot agony. I yelp and he pulls back. "What?" he says in English. "Pain?"

"Fuck! Yes, there's pain, Jesus fucking Christ, goddamnit," I snarl.

So he hits me with the needle again and tries the screw: it still hurts as bad as before, and I scream again. But after those two and a half hours, I just want this over with. "Fuck it, man," I mutter through lips that feel like they're constructed of inner-tubes. "Let's do this thing."

Of course, what neither of us knows yet is that the dentist is pushing the needle straight into an infected part of my gum, and the infection is immediately soaking up the anesthetic. He might as well be injecting me with sugar water.

Oblivious, he bores in. And that's when I start screaming for real.
Full Story: Huffington Post: Getting My Uninsured Teeth Pulled In Mexico's Most Notorious Border Town
The HuffPo article is an abridged version of a longer e-book he's written. You can buy it the Amazon Kindle version or in a couple other formats.
See also: see my interview with him My interview with Josh about his music.
Alejandro Jodorowsky made a rare public appearance in Mexico City to lead a group psychomagic ritual with over 3,000 participants:
It was billed as "the first act of collective psycho-magic in Mexico."

The call made by the cult mystic Alejandro Jodorowsky said the event would seek to "heal" the country of the cosmic weight of so many dead in the drug war, by gathering for something he called the March of the Skulls.

On Sunday, on a wet and frigid morning in this mountain capital, hundreds of Jodorowsky fans answered the open convocation (video link in Spanish).

They donned black top hats and black shawls, and carried canes and Mexican flags colored in black. They wore calavera face paint or masks to give themselves the look of stylish skeletons gathered in this often-surreal city in the name of Mexico's tens of thousands of sometimes nameless drug war dead.
LA Times Blog: Cult mystic holds 'march of skulls' for Mexico's drug war dead
Update: You can find a collection of links to more pictures here.
(Thanks Trevor!)
The program, called Bolsa Familia (Family Grant) in Brazil, goes by different names in different places. In Mexico, where it first began on a national scale and has been equally successful at reducing poverty, it is Oportunidades. The generic term for the program is conditional cash transfers. The idea is to give regular payments to poor families, in the form of cash or electronic transfers into their bank accounts, if they meet certain requirements. The requirements vary, but many countries employ those used by Mexico: families must keep their children in school and go for regular medical checkups, and mom must attend workshops on subjects like nutrition or disease prevention. The payments almost always go to women, as they are the most likely to spend the money on their families. The elegant idea behind conditional cash transfers is to combat poverty today while breaking the cycle of poverty for tomorrow. […]

The program fights poverty in two ways. One is straightforward: it gives money to the poor. This works. And no, the money tends not to be stolen or diverted to the better-off. Brazil and Mexico have been very successful at including only the poor. In both countries it has reduced poverty, especially extreme poverty, and has begun to close the inequality gap.

The idea's other purpose — to give children more education and better health — is longer term and harder to measure. But measured it is — Oportunidades is probably the most-studied social program on the planet. The program has an evaluation unit and publishes all data. There have also been hundreds of studies by independent academics. The research indicates that conditional cash transfer programs in Mexico and Brazil do keep people healthier, and keep kids in school.
New York Times: To Beat Back Poverty, Pay the Poor
The criticism I've heard of this sort of program from the hard left is that the money is essentially a small bribe to keep the poor from rising up and affecting real change. That may be true - but it's hard to argue with with real results.
My biggest concern is the fact that the World Bank is financing all of this in the form of loans. What happens when it's time for the countries to pay up?
I'd be interested in seeing a comparison of these conditional transfers with the U.S. welfare system.