Klint Finley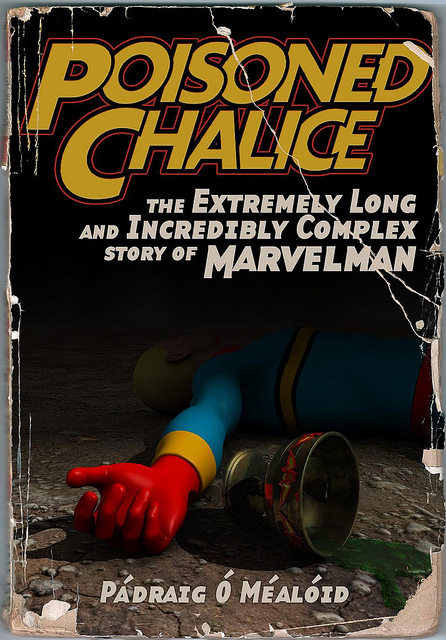 The Beat is pleased to serialize this of work of comics history by Pádraig Ó Méalóid, a known expert on things Alan Moore, British comics, and SF. In Poisoned Chalice he wades in to one of the strangest and thorniest knots of all of comics: the history of Marvel/Miracleman and still unsolved question of who owns this character. It's a story that touches on many of the most remarkable personalities in the comics industry—Alan Moore, Neil Gaiman, Todd McFarlene, Joe Quesada and more—and one of the most fascinating. It's a sad fact about the comics medium that only in the last few decades have its most talented and passionate creators been able to present their work with a guarantee of equity and ownership; I feel that it is no coincidence that since this began, the medium has risen in popular and critical regard. The story of Marvelman touches on the darker places of comics history, springing from the prehistory where greed ruled the day; it's a tangled tale that I have occasionally attempted to untie myself, but Pádraig is far better equipped to do so, as I think the following will show, bringing the research and attention to detail the story requires. It's a piece of scholarship that I am proud to present.

It's my intention to serialize Poisoned Chalice over the next few months; but I would hope to see it published in a more complete form at some time. So with no further ado, let's begin the story of Marvelman.
Full Story: Comics Beat: Poisoned Chalice: The Extremely Long and Incredibly Complex Story of Marvelman – Introduction
i09 reports that Neil Gaiman announced at Comic-Con that he's writing a prequel to Sandman. J. H. Williams III of Promethea fame is set draw it. Here's a transcript of part of Gaiman's pre-recorded announcement:
When I finished writing The Sandman, there was one tale still untold. The story of what had happened to Morpheus to allow him to be so easily captured in The Sandman #1, and why he was returned from far away, exhausted beyond imagining, and dressed for war.
Full Story: io9: Neil Gaiman's writing a prequel to Sandman in 2013
I haven't read Sandman since I was 15 - about half my life ago. I have no idea if it's actually good - it was the best thing I'd ever read up to that point (other than Watchmen), but I hadn't read all that much. I think it's time for a re-read.