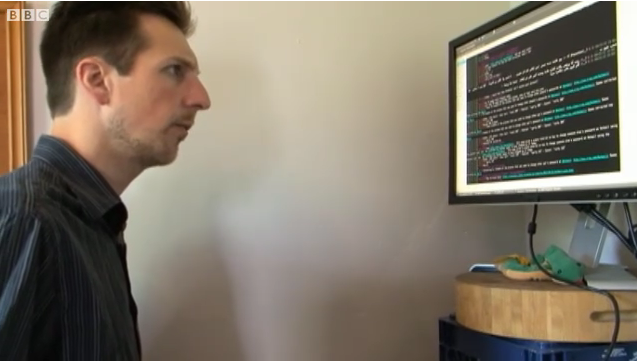 Anonymous member Peter Fein deanonymizes himself in a video interview with BBC:
Anonymous 'hactivist' goes public on cyber protests
See also: My video interview with Fein and The Doctor.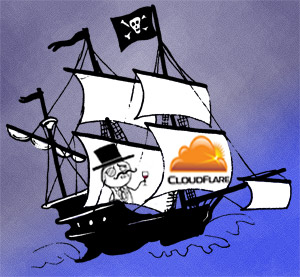 My colleague Kit Dotson writes:
In every statement about allowing LulzSec to use their free service, CloudFlare has been pointed about mentioning that while they had received queries from law enforcement—they had never been asked by any authority to terminate service. Of course, the company had very little information to provide about their free client because all that's needed to sign up is an e-mail address, a username, and a password.

Prince describes the experience as causing several existential crises for his colleagues, after all, who wants to be described as the person who provided anonymity to a group of hackers? Still, in the end, they decided that it was not their job to act as censors when housing information on hacking subjects itself is not illegal.
SiliconAngle: CloudFlare Speaks Out About Their Experience Hosting LulzSec
Prince also said ""You can't pay for pen testing like this." No kidding!
It's clear now that, much like HBGary before it (see: Inside the World of Wannabe Cyberspooks for Hire) private security research firm Stratfor is a joke.
But according to The Atlantic International Editor Max Fisher, Stratfor was always a joke in the foreign policy community:
The group's reputation among foreign policy writers, analysts, and practitioners is poor; they are considered a punchline more often than a source of valuable information or insight. As a former recipient of their "INTEL REPORTS" (I assume someone at Stratfor signed me up for a trial subscription, which appeared in my inbox unsolicited), what I found was typically some combination of publicly available information and bland "analysis" that had already appeared in the previous day's New York Times. A friend who works in intelligence once joked that Stratfor is just The Economist a week later and several hundred times more expensive. As of 2001, a Stratfor subscription could cost up to $40,000 per year.
Fisher also chide Wikileaks for buying into Stratfor's marketing hype:
It's true that Stratfor employs on-the-ground researchers. They are not spies. On today's Wikileaks release, one Middle East-based NGO worker noted on Twitter that when she met Stratfor's man in Cairo, he spoke no Arabic, had never been to Egypt before, and had to ask her for directions to Tahrir Square. Stratfor also sometimes pays "sources" for information. Wikileaks calls this "secret cash bribes," hints that this might violate the Foreign Corrupt Practices Act, and demands "political oversight."

For comparison's sake, The Atlantic often sends our agents into such dangerous locales as Iran or Syria. We call these men and women "reporters." Much like Statfor's agents, they collect intelligence, some of it secret, and then relay it back to us so that we may pass it on to our clients, whom we call "subscribers." Also like Stratfor, The Atlantic sometimes issues "secret cash bribes" to on-the-ground sources, whom we call "freelance writers." We also prefer to keep their cash bribes ("writer's fees") secret, and sometimes these sources are even anonymous.
The Atlantic: Stratfor Is a Joke and So Is Wikileaks for Taking It Seriously
I suppose much of that depends on whether these payments were made to, as Fisher suggests, freelance researchers/writers, or to, as Wikileaks implies, to government officials and employees. The Stratfor employee mentioned by that NGO worker may not be the only type of "informant" on the company's pay role.
(via Alex Burns)
See also:
Inside the World of Wannabe Cyberspooks for Hire
Anonymous Publishes E-Mail Saying Stratfor CEO to Resign Over Wikileaks E-Mail Dump
Anonymous Reveals Private Intelligence Firm Stratfor Infiltrated Occupy Austin
From SiliconAngle:
Wikileaks has returned with an astonishing release of more than five million emails from Stratfor, a Texas-based security intelligence company that is associated with CIA type of operations. The company has been the target of hackers in recent months. Though Wikileaks has not stated how it acquired the large cache of information, Anonymous members boasted of their partnership with Wikileaks in releasing this information.
The article quotes one of the Wikileaks dumps:
"Stratfor's use of insiders for intelligence soon turned into a money-making scheme of questionable legality. The emails show that in 2009 then-Goldman Sachs Managing Director Shea Morenz and Stratfor CEO George Friedman hatched an idea to "utilise the intelligence" it was pulling in from its insider network to start up a captive strategic investment fund. […] CEO George Friedman explained in a confidential August 2011 document, marked DO NOT SHARE OR DISCUSS: "What StratCap will do is use our Stratfor's intelligence and analysis to trade in a range of geopolitical instruments, particularly government bonds, currencies and the like""
Anonymous has posted an e-mail purported to be Stratfor CEO George Friedman's resignation from the company.
SiliconAngle:Stratfor CEO to resign after Wikileaks releases 5mil emails – covert operations exposed
See also:
Anonymous Reveals Private Intelligence Firm Stratfor Infiltrated Occupy Austin
From SiliconAngle:
Hacktivism is the result of mashing up the words hack and activism and was coined in 1998 by Omega, a member of the Cult of the Dead Crow hacker crew. By definition, hacktivism is the use of computers and computer networks as a means of protest to promote political ends or "the nonviolent use of legal and/or illegal digital tools in pursuit of political ends". Hacktivism can be in the form of web site defacements, redirects, denial-of-service attacks, information theft, web site parodies,virtual sit-ins, typosquatting, and virtual sabotage. Wikipedia also defines hacktivism as "the writing of code to promote political ideology: promoting expressive politics, free speech, human rights, and information ethics through software development."
From a Deep Green Resistance press release:
Computer hackers known as Anonymous leaked information obtained by hacking into private intelligence firm Stratfor's computer network. The documents – what Anonymous is calling a teaser – suggest that from at least October to November 2011 Stratfor worked with Texas law enforcement to infiltrate the Occupy movement and spy on the Deep Green Resistance movement. The document contains emails in which Stratfor employees discuss Occupy Austin and Deep Green Resistance. Stratfor "Watch Officer" Marc Lanthemann writes about receiving information on Occupy Austin and DGR from a "Texas DPS agent." The Texas Department of Public Safety is a statewide law enforcement agency that includes an Intelligence and Counterterrorism Division.
You can find documents and more information on the DGR website.
(Photo via @Newyorkist)
John Robb on #OccupyWallStreet as an open source protest:
*A promise. A simple goal/idea that nearly everyone can get behind. Adbusters did pretty good with "occupy wall street." Why? Nearly everyone hates the pervasive corruption of banks and Wall Street. It's an easy target.

*A plausible promise. Prove that the promise can work. They did. They actually occupied Wall Street and set up camp. They then got the message out.

*A big tent and an open invitation. It doesn't matter what your reason for protesting is as long as you hate/dislike Wall Street. The big tent is already in place (notice the diversity of the signage). Saw something similar from the Tea Party before it was mainstreamed/diminished.
Anyone who says he has no idea what these folks are protesting is not being truthful. Whether we agree with them or not, we all know what they are upset about, and we all know that there are investment bankers working on Wall Street getting richer while things for most of the rest of us are getting tougher. What upsets banking's defenders and politicians alike is the refusal of this movement to state its terms or set its goals in the traditional language of campaigns.

That's because, unlike a political campaign designed to get some person in office and then close up shop (as in the election of Obama), this is not a movement with a traditional narrative arc. As the product of the decentralized networked-era culture, it is less about victory than sustainability. It is not about one-pointedness, but inclusion and groping toward consensus. It is not like a book; it is like the Internet.
There's a lot being written right now about what the #Occupy movement must do. What it should be, where it all needs to go. Yet somehow, everything that looked like a mistake at first has unfurled into an advantage. All any single #Occupy cell needs to do is hold their ground for another night, and plan to make tomorrow bigger and better. It's easy to write a sneering caricature of a Tea Party rally, but it's interesting to note how many reporters wrote mocking hit pieces on the Wall Street crowd that all wound up being completely different. It's hard to get a bead on where the consensus is — but the occupation itself is the whole message. Nobody on Wall Street is confused about what it means, at least.